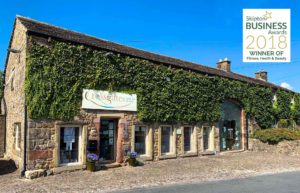 Join us at Crossgates Hair & Beauty for one of our special Hair & Beauty treatments.
We offer facial & body treatments, massages, hand & foot treatments, LVL lashes, CACI non-surgical treatments, eye treatments (tinting, individual lashes), waxing, pain free laser hair removal, Neal & Wolf Hair colouring, hair cuts, re-styles and pin ups - Look Great & Feel Exceptional!
We're located in the heart of the Yorkshire Dales in Gargrave, near Skipton and serve customers from a wide area including Settle, Grassington, Barnoldswick, Silsden and beyond!
You can view more details on the treatments that we offer as well as price lists by using the navigation menu on the right of the page or if you'd prefer to speak to a member of our team please don't hesitate to give us a call on 01756 748881.
Customer Information
Arrival
Please arrive 5–10 minutes early for your appointment to allow a stress free book‑in and to enjoy your valuable 'me time'. Being on time for your appointment is very much appreciated.
Patch Test
You can expect your therapist to give you a patch test at least 48 hours prior to having a hair colour, tinting, perming or adhesive to the eye area. This is very important to ensure that you do not have an allergic reaction to the tint.
The patch test involves a small amount of tint that will be applied either behind your ear or on the inside of your elbow.
A tint test may need to be repeated if you have not had any eyelash or eyebrow tinting for a period of time or if your health has changed.
Car Parking
We have a cobbled parking area in front of the salon There is a free public car park on North Street just past the salon on the right – opposite the village hall.
Cancellation/No Show Policy
We will do our best not to cancel or re-arrange your appointments and to run to time. We really appreciate you doing the same.
OUR CANCELLATION POLICY
We understand that sometimes you may have to cancel an appointment. Please give us at least 48 hours' notice, otherwise a cancellation fee of 50% of the cost of your service or treatment will be charged.
It is very difficult to fill appointments at short notice.
If you need to cancel, please give us a call. Please don't text, email or put a message on social media.
For appointments made within 24 hour period, if you cannot attend the appointment, please cancel within 4 hours of your appointment time. Failure to do so will result in a charge equal to 50 % of the reserved service/treatment amount.
Any future appointments will be cancelled until debt is paid.
KEEPING TO TIME
If you are running late, please call us right away and  we will do our best to fit you in, but we may not be able to provide the full service or treatment.
The cancellation policy gives us the time to inform our standby clients of any availability and keep our team members schedules filled. Our aim is to provide you with an excellent level of customer service and our policies help us achieve this.
Thank you for viewing and your continued support.