"Mother Nature's Perfect Food"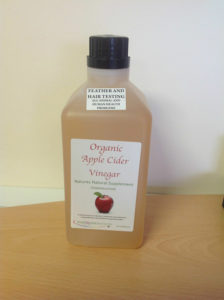 Our English Organic Apple Cider Vinegar is from an award-winning producer and is:
Suitable for human and animal consumption.
Organic farmers and growers approved.
Unpasteurised and contains no preservatives.
Contains natural beneficial active enzymes and therefore "mother" forms naturally from these.
Our organic Apple Cider Vinegar is food grade so it is literally "alive"; it contains all the natural goodness and beneficial active enzymes.
Water purifier and natural antibiotic, made from whole sweet apples, rich in minerals, vitamins, enzymes and trace elements.
This product is food grade and can be used for human consumption indefinitely. Shelf life is indicated for best appearance only. Depending on storage conditions, some color changes, sedimentation and mother of vinegar may appear throughout the life of the product. Cooler temperatures and lack of oxygen will slow these alterations.
Organic Apple Cider Vinegar is believed to help with the following:
Boost the immune system/fight infections
Arthritis/stiffness
Naturally boost energy levels
Supports the liver for better digestion
Somatic cell counts
Mastitis
Urinary tract infections/bladder stones
Hair condition/skin/nails/itching/ringworm
Relieve insect bites and stings
Stamina/endurance
Digestion/constipation/diarrhea
Metabolism/weight/blood pressure
Prevention of soft shelled eggs
Wash for animals, birds, housing and feeders
Fly spray (mix with water or Avon Skin So Soft)
Sizes available:
You can purchase our Organic Apple Cider online by visiting our eBay shop or if if you'd prefer you can call us on 01756 749901 to place an order over the phone. We also offer bulk wholesale orders to businesses looking to purchase large volumes.