A powerful addition to your animals daily food or water
Our probiotic is a soluble powder for adding to an animal's daily food or water.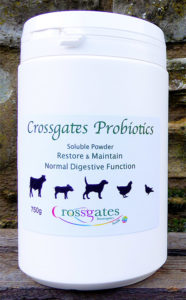 Soluble powder contains:
Enterococcus faecium M74 (NCIMB 10415) No.13 and is EU regulated; Regulation No. 2437/2000/EU
Probiotics help to re-establish the beneficial micro-organisms within the intestines.
Probiotics are suitable for use when there is:
Gut infections
Vomiting & diarrhoea
Antibiotic therapy
Dietary changes
Travel
Stress
Following surgery & anesthesia
Poor appetite
Health of young while rearing/weaning
Sizes Available:
You can purchase our Crossgates Probiotics online by visiting our eBay shop or if if you'd prefer you can call us on 01756 749901 to place an order over the phone. We also offer bulk wholesale orders to businesses looking to purchase large volumes.